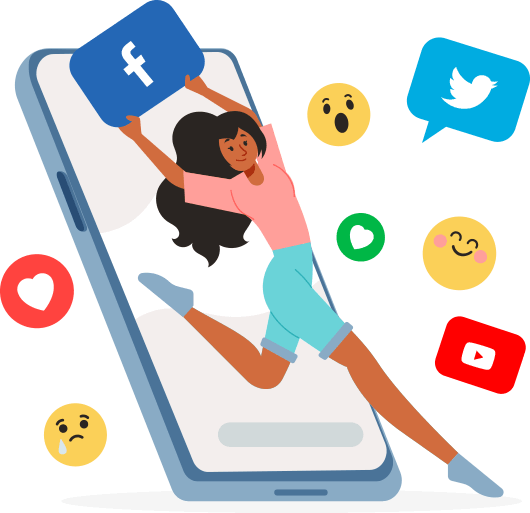 Enterprise Social Media Advertising allows you to reach your target audience at the right time and place. At Digimetry, our Social Media experts will amplify your brand awareness by advertising on top social media networks such as Instagram, Facebook, Twitter, and more.
Simply posting on Social Media once in a while is not enough. A well-planned Social Media strategy involves creating a community, engaging with audiences, and converting those audiences into qualified business leads. Digimetry's Enterprise Social Media Advertising takes care of the complexity of social media for business owners and lets you run your business without any hassle.
Advertise on the platforms that matter to your enterprise:
Compared to any advertising, Social Media Advertising provides the highest brand visibility and user engagement. Our team of social media experts is skilled at creating and executing ad campaigns across various social media networks. We design a social media plan that meets your business goals while remaining agile and relevant in an ever-shifting marketplace.
Our Enterprise Social Media Services include advertising on all of these platforms:
Facebook
Instagram
Twitter
Pinterest
Snapchat
YouTube
LinkedIn
Here's Why Social Media Advertising is Important for Your Business:
We live in a digital era where more than 70% of consumers expect a brand to have a social media presence. To connect effectively with your target audience, your brand needs to stand truthful and ownable.
To win the hearts and minds of your customers, Digimetry's team of social media professionals will create tailored advertising plans based on logic and emotion. By sharing valuable information on Social Media, businesses can interact with the target audience and increase brand value. With effective branding, you can influence buying decisions of your ideal customers.
Social Media Advertising enables your brand to get quick exposure and allows you to reach your audience promptly. Social Media Advertising elevates your brand awareness, increases followers & engagement while driving traffic to your website directly. With a paid social media advertising campaign from Digimetry – you initiate a whole new route to reach your audience.
Our Social Media Marketing Process Includes:
Assign Social Media Manager:
We will assign a social media manager for your business. The social media manager will understand your business objectives, craft a marketing plan and execute it. Our social media manager will carefully create your campaign, keeping in mind the bids that fit your budget.
Create Social Media Marketing Strategy:
Our results-driven marketing plan includes competitive research, buyer persona research, and define content marketing strategy.
Social Media Advertising & Content Calendar:
We will design content and advertisements that will make your brand stand out. We will create compelling advertising copy and a design that fits your look and feel.
Social Media Management and Optimization:
We will be responsible for social media community management. We use analytics software data to test ads to measure what works best for your campaign and optimize accordingly.
Social Media Monthly Reporting:
The social media manager will provide you monthly reports for review. You will have access to the campaign progress in real-time using analytics software.
---
Contact Us Now: